Champions of HVAC Services in & Around Birmingham, AL
Perfect Service Heating & Air is proud to be there for our surrounding service area with expert HVAC and air quality services. From Birmingham and Trussville to Irondale and Pinson, we're a leading HVAC contractor for the communities we call home. Our qualified technicians are ready to help, whether you need a fast repair, full replacement or preventative maintenance.
We help you stay cool all summer and warm all winter with professional AC and heating services. We're passionate about residential indoor comfort and are sure to have the right solution for your needs. We also offer indoor air quality, duct cleaning, home disinfectant and moisture control services to protect the air you breathe every day.
There's no project too big or too small for our team! Read our many 5-star reviews to see why we're the trusted name in north-central Alabama and give us a call today at 205-206-6091 to schedule your Perfect Service!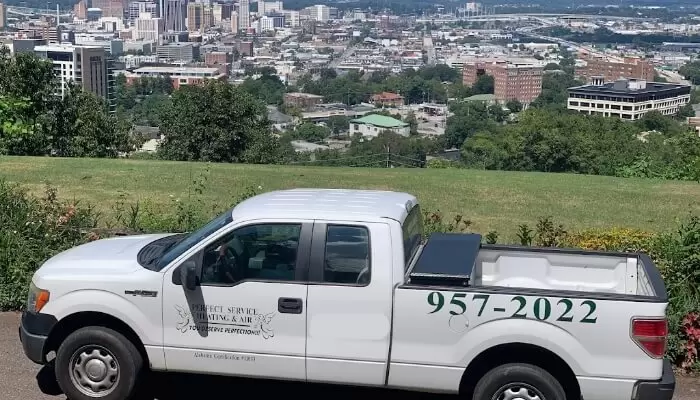 Do you work in my area?
Perfect Service is located in Birmingham and provides HVAC services to the entire north-central region of Alabama. Our service area includes, but is not limited to Blount, Jefferson, Shelby, St. Clair, Talladega and Walker Counties.
Do you work in apartments?
No. Perfect Service does not provide any HVAC services for rental apartments. At this time, we only provide HVAC services to single-family homes that are located within the north-central region of Alabama.
Do you work on condos?
Yes. Perfect Service provides a variety of HVAC services for condos if you own the condo yourself. We do not provide services to rental properties. If you own a condo in the north-central region of Alabama, the HVAC technicians at Perfect Service are available 24/7 for any HVAC project you need done.
Do you work on mobile homes?
Yes. Perfect Service provides HVAC services to any mobile home in the north-central region of Alabama as long as you own both the mobile home and the land. If you need reliable HVAC services for your mobile home, Perfect Service is here to help.