Water Heater Repair & Replacement Near Birmingham, AL
Is your water heater just not getting the job done anymore and your showers are not as hot? Or maybe you've noticed your hot water is discolored and you are concerned about rust? For full services on all things water heaters, you can count on the team at Perfect Service in Birmingham, AL. Our certified technicians will be able to repair or replace your water heater with precision and skill, ensuring your hot water heater functions well for years to come.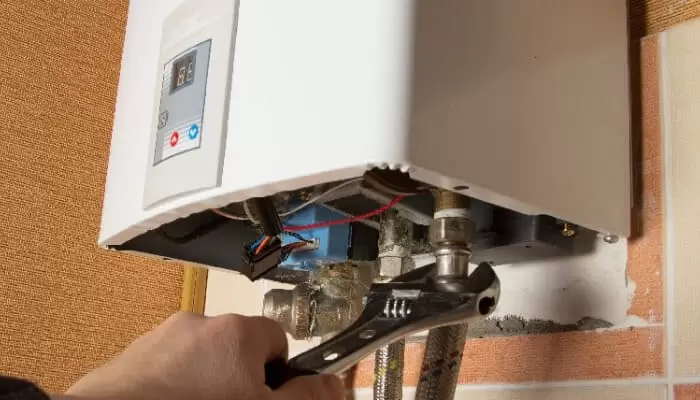 Water Heater Services
Standard Tank Installation & Replacement - We offer expert installation and replacement services on water heaters and high-quality options that will work perfectly for your home. Typically, a standard tank water heater will last about 10 years. Some signs you might need to replace instead of repairing your hot water heater include:
If your unit is over 10 years of age.
If your unit is making banging or rumbling noises, it could mean that sediment has built up over the years and hardened, making it hard for the system to operate.
If your water is discolored or rusty, either sediment is running through your pipes from build-up or your unit has rusted from within.
If your tank is cracked or leaking, the unit cannot be repaired.
Tankless Installation & Replacement - Many in our area have turned to tankless water heating solutions. Perfect Service is happy to provide installation and replacement services for these innovative appliances. Though a larger investment upfront, tankless units have a number of benefits, including:
Instant and unlimited hot water.
More efficient use of energy to heat water.
Units last longer than standard tank units — up to 20 years.
Systems take up less space than standard tank water heaters.
Water Heater Repair - Our team will be able to accurately determine what is going on with your unit and either repair it or advise if a new one would be more beneficial to you financially in the long run.
Perfect Service, Every Time
Residents in the Birmingham area know they can count on our team for perfect work on their home's comfort, every time. Our water heater services will exceed your expectations, just like our heating and cooling services have for over 20 years.
We offer a number of benefits when working with us, including:
24/7 emergency service.
Highly trained, knowledgeable and experienced technicians on every job.
Affordable prices and a number of financing options available.
Friendly customer service each and every time.
Don't wait for your water heater to go out all the way. Connect with the professionals at Perfect Service today at 205-206-6091 !