Moisture Barrier Installation Near Birmingham AL
Perfect Service proudly serves the Birmingham community and surrounding areas to help protect your crawlspace from bacteria, mold and mildew. Our crawlspace moisture barriers do an amazing job of keeping moist air from passing through your home's structure surfaces, such as wooden beams.
These durable membranes are designed to protect the vulnerable parts of your home from moisture and prevent damage. Perfect Service will install your new vapor barrier with professional care to ensure your home is equipped to withstand the elements.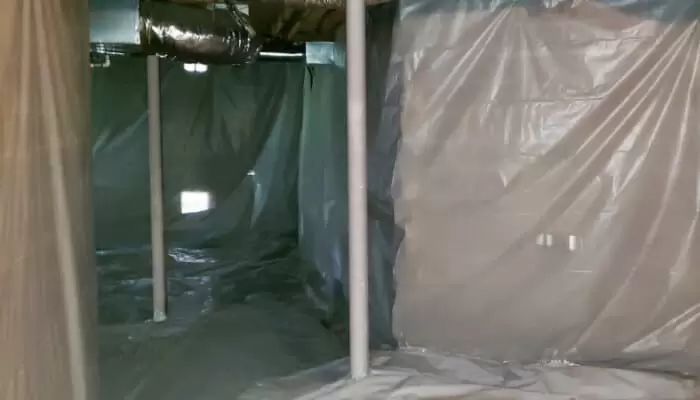 Our Crawlspace Moisture Barrier Installation Process
Inspection to see everything that will be needed to complete the job.
Supply run to pick up all supplies needed to start the job.
Clean out the crawlspace of all junk, debris, trash, etc..
Strap up loose hanging ducts, unit, etc. to get anything necessary off the ground.
Run electrical for dehumidifier & install breaker in electrical panel.
Cut & lay plastic on the crawlspace floor to completely cover the floor.
Clean up after ourselves.
Benefits of Vapor Barriers
In the hot, humid Birmingham area summers, the last thing you want to deal with is moisture buildup, mold, mildew and rot damaging your home. Crawl spaces are often overlooked since they are mainly used for storage or left untouched.
Without proper protection, these spaces are prone to moisture problems from water vapor that rises from the ground. Installing a vapor barrier acts as your home's first line of defense against ground moisture that affects your home above it.
Some advantages of crawlspace moisture barriers include:
Protection against moisture that can seep up through your home's flooring.
Protection against structural wood rot caused by moisture damage.
Reduced chance of mold and mildew growth.
Increased insulation for energy efficiency and HVAC system performance.
Help with repelling pests that can cause damage to your home.
Protect Your Crawlspace With Perfect Service
Thinking about adding a vapor barrier in your crawlspace? Perfect Service is here to help! We will keep you informed throughout the installation process and provide efficient, lasting results.
Give us a call at 205-206-6091 or contact us online for convenient scheduling!