Fast HVAC Repairs Near Birmingham, AL
Since 2002, Perfect Service Heating & Air has established itself as one of the top HVAC contractors in the Birmingham area by providing quality HVAC repair services and personal customer service, all at an affordable price.
While many people see air conditioning repair situations as emergencies only, there is a multitude of problems that can exist beneath the surface. By catching them before it's too late, you can often reduce the cost of our repairs and prevent further damage. And when cold temperatures hit, the last thing you want is a broken furnace or heating system. That's why you need a heating repair company that can arrive fast, diagnose the problem and fix it all in one visit.
Perfect Service is your number-one source for HVAC repairs all across Birmingham and central Alabama.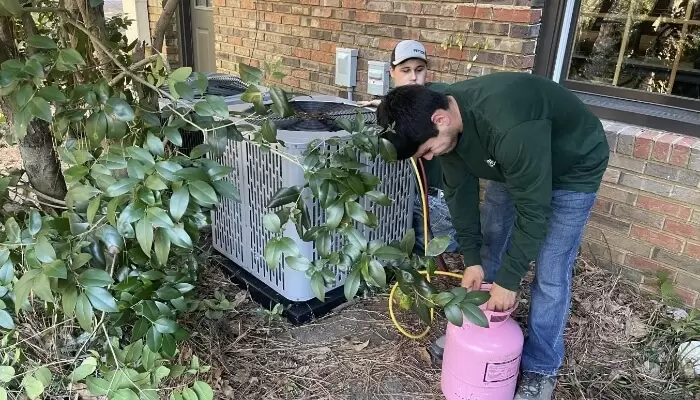 Emergency HVAC Repair
Perfect Service has been in the business a long time and has seen so many different kinds of HVAC repairs around the Birmingham area, some of the most urgent - and detrimental Heating, Ventilation and Air Conditioning Repairs we see that can often require urgent attention include:
Total HVAC System Failure: If your HVAC system has completely stopped working and will not turn on and stay running, especially during extreme weather conditions, it's essential to address the issue promptly. We find that once this system stops working other areas of the home are quickly impacted. With the heat and humidity that we see near Birmingham during the summers, and the deep chill we get during the winter months, your HVAC working is essential.
HVAC Refrigerant Leaks: Apart from refrigerant leaks leading to inefficient cooling or heating and harm to the environment, refrigerant leaks can pose health risks to whoever is exposed to it. Certain refrigerants, such as chlorofluorocarbons (CFCs) and some HCFCs, can displace oxygen, leading to asphyxiation in enclosed spaces. In addition, some refrigerants are toxic and can cause respiratory problems or other health issues if inhaled. If you suspect a refrigerant leak, call Perfect Service to get it repaired right away.
Electrical Problems In Your HVAC System: Electrical issues in HVAC systems can pose safety risks. If you experience electrical malfunctions or notice sparks, tripped breakers or other electrical problems, it's important to address them urgently. This could include any number of issues, like blown fuses or tripped circuit breakers or wiring issues, capacitor problems or faulty contacts & relays. No matter the HVAC system's electrical issue, diagnosing electrical issues requires expertise and could be a danger. Please call for help right away.
HVAC Gas Leaks: Gas-powered HVAC systems can develop leaks over time, which can be dangerous due to the risk of fire or explosion. If you smell gas or suspect a gas leak, evacuate the building and contact the appropriate authorities before calling a professional HVAC technician. Here are a just few signs you might have an HVAC gas leak near Birmingham:

Sudden Strange Smell you cannot identify - many say it smells like rotten eggs or sulfur
Hissing or Whistling Sound near your HVAC system or the gas lines connected to it
Dead or discolored vegetation near your HVAC system or the gas lines going to it
Physical Symptoms of gas exposure like headaches, dizziness, nausea, fatigue or eye and throat irritation when the HVAC system is running
A sudden and significant increase in your gas bills without a corresponding change in usage

Compressor Issues: The compressor is a vital component of an HVAC system because it is responsible for compressing the refrigerant and maintaining the refrigerant flow, which enables heat transfer and temperature regulation in your HVAC system. If it fails, it can result in a lack of cooling or heating. Compressor problems often require urgent repair or replacement.
To determine the most urgent HVAC repairs specific to your location near Birmingham, AL, Call Perfect Service so we can assess the problem and provide options to get your HVAC Repair resolved right away.
How much does it cost to fix a leak in a home AC unit near Birmingham?
It depends on the size of the AC unit, the severity of the leak and whether or not any parts need to be replaced. Generally speaking, though, most homeowners can expect to pay between $200 and $500 to repair a leaking AC unit.
If you're experiencing a leak in your home AC unit, it's important that you have it repaired as soon as possible. A leaking AC unit can lead to all sorts of problems, including increased energy usage and higher monthly bills, structural damage to your home and even health problems from mold or mildew growth.
How much do HVAC service calls cost near Birmingham?
Costs for HVAC service calls vary depending on the type of service required. In general, you can expect to pay anywhere from $50 to $300 for an HVAC service call near Birmingham. However, it's important to remember that the cost may be higher if the technician has to come out after hours or on a weekend.
How do I find a leak in my HVAC system near Birmingham?
There are a few methods you can use to find a leak in your HVAC system. One is to check the insulation around the ducts. If the insulation is wet or discolored, there's a good chance you have a leak. You can also check for water damage around the unit and in the attic. If you suspect there may be a leak, it's best to call a professional to come take a look. They'll be able to pinpoint the source of the leak and repair it quickly and efficiently.
Air Conditioning Repair
With Perfect Service, you will receive prompt service with our trained techs able to repair any air conditioning system, no matter the make or model. We even offer 24/7 emergency service so you'll always be able to reach us and get your air conditioning system fixed fast.
When to Call for AC Repair
When you suspect that something is wrong with your AC, a professional opinion is never a bad idea. That's why Perfect Service has been central Alabama's choice for expert AC installation, repair and maintenance for more than two decades. It's better to call a professional when there's a small problem with your AC than to wait for a potential breakdown. Knowing the signs of trouble can save you time, money and hassle.
Call Perfect Service for an assessment if you experience:
Visible damage or wear of parts
An unexplainable rise in energy costs
Loud or strange noises coming from the unit
Poor or inconsistent temperature control
Sluggish or unresponsive equipment
Whether you're experiencing an unexpected emergency or simply suspect that something may be wrong, Perfect Service is North Central Alabama's number-one source for dependable air conditioning repair.
Heating Repair
Regardless of the heating system your home uses, whether a furnace, heat pump or other system, our techs are trained to repair it. If you have an after-hours emergency, you'll always be able to reach us with our 24/7 emergency service. We've been giving the residents of Birmingham professional heating repair for years, so trust only the best to repair your system.
When to Call for Furnace Repair
The furnace is not producing heat at all or not producing enough heat to warm your home
The furnace is making strange noises. We typically hear noises described as banging, clanking or squealing when a furnace is broken
The furnace is cycling on and off frequently, but will not stay running
The furnace pilot light is yellow or orange in color instead of blue
The furnace is producing a burning smell or a foul odor that is spilling out into your home
When to Call for Heat Pump Repair
Odd and unexpected noises from vents and equipment. If you hear strange noises coming from your heat pump, it could indicate a mechanical problem that needs to be addressed.
Leaks, cracks or moisture around your heat pump. This could indicate a problem with the unit's refrigerant or drainage system.
Difficulty controlling and maintaining comfortable temperatures.
Safety concerns and poor indoor air quality or even an electrical burning smell. This is key because this could signal to you that your heat pump wiring or other components are failing.
Inactive or failing heating equipment. No heat? You know you have a problem.
Are you unsure as to whether or not your furnace or heat pump needs repair? Don't leave your comfort up to chance. Take note of these warning signs and call for service before it's too late! Contact your trusted HVAC technicians at Perfect Service for a diagnosis before further damage takes place.
Schedule Your HVAC Repair Today!
Need HVAC repair and live in central Alabama? The experts at Perfect Service can repair your system quickly and professionally.
Why You Should Choose Perfect Service Heating & Air:
Fast response and 24/7 emergency availability
The latest tools and know-how to get you back up and running
A focus on energy efficiency and safety
Full home assessments and system checkups on every job
Family-friendly service rooted in community
Birmingham's biggest selection of products from brands you trust
If you suspect that something may be wrong with your HVAC system or any of its parts, waiting won't make it go away. Call us at 205-206-6091 or contact us online for convenient repair scheduling and emergency service!