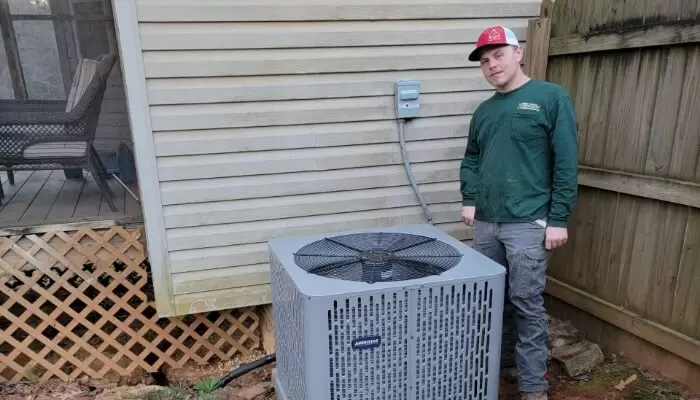 5 Easy Ways to Prep Your HVAC for Cold Weather
The winters may be short in the Birmingham, AL, area, but prepping your HVAC system for colder weather is just as important as prepping it for summer. As a homeowner, taking the time to check that your equipment is ready for winter will give you peace of mind and help you save on energy costs. From routine maintenance to a quick thermostat check, we have you covered with crucial steps to prepare your HVAC system for winter.
1. Schedule a Professional HVAC Inspection
We recommend preventative HVAC maintenance in the early fall, before the cold sets in. If the end of the year creeps up on you, though, scheduling a professional inspection is still worth it, especially for your heating system. After months without use, your furnace may not run the way it did last year. An HVAC technician will thoroughly clean, inspect, and test your unit to identify and resolve any potential issues.
The most important parts of fall or winter HVAC maintenance include:
Heating Equipment Inspection: Whether you use a heat pump or furnace, a professional will check that it is clean and in good working order. A well-maintained heating system will operate more efficiently and reduce energy consumption.
Replacing Air Filters: A clogged or dirty air filter obstructs airflow and reduces efficiency. Your technician will clean or replace air filters as needed to improve airflow and help you save on energy costs. We also recommend changing filters at least every 90 days.
Ductwork Inspection: Leaks, gaps, cracks and buildup in ductwork reduce HVAC efficiency and impact air quality. Your technician will check for any problem areas and recommend duct cleaning or sealing as needed. Taking care of small air duct issues will reduce energy waste and keep your home warm all winter.
2. Test Your Thermostat
Your thermostat is one of the most important parts of managing indoor temperatures. When it's time to switch the AC off and the heater on, check that your thermostat is functioning correctly by turning it on and adjusting the temperature. If the thermostat isn't working properly, you might notice inconsistent temperatures, high energy bills, or issues with the HVAC short cycling.
Many heating and cooling issues can be traced back to a faulty thermostat. Start by changing the batteries, checking the circuit breaker and recalibrating the thermostat if needed. If these steps don't solve the issue, you may want to call and HVAC professional for an inspection.
If your thermostat is outdated, consider upgrading to a smart thermostat for easy temperature management and greater energy savings. These devices offer better control and can be programmed around your schedule for optimized home comfort.
3. Check for Drafts & Insulate
To maximize the efficiency of your HVAC system during the winter, it's essential to keep cold air out and warm air in. Check windows and doors for drafts, gaps and cracks. Seal any problem spots and insulate any areas where warm air may be escaping, like the attic, basement and walls.
To seal drafty areas, use weather stripping, foam tape or thermal drapes. You can also use window film for greater insulation, ensuring as little warm air escapes as possible. Placing towels under doors and against windows is a great temporary solution until you are able to properly insulate and seal drafty areas.
4. Reverse Ceiling Fans
Ceiling fans aren't just for keeping your home cool in the Birmingham summers. In the winners, you can reverse the direction of your ceiling fan to spin clockwise. This will push warm air down from the ceiling, making your rooms feel cozier.
Supplemental airflow from ceiling fans is also a great way to give your HVAC system a break without interrupting your comfort. This simple step can reduce your heating costs in the winter and keep warm air moving everywhere you need it.
5. Upgrade or Replace Your HVAC System
If your HVAC system is aging or constantly in need of repairs, it might be time to consider an upgrade or replacement. Newer HVAC systems are more energy-efficient and can provide better performance. Perfect Service offers a range of energy-efficient heating solutions that can meet your specific needs and budget.
Many homeowners in the Birmingham area opt to upgrade to an energy-efficient heat pump. These versatile units can be used in the summer and winter and help improve indoor air quality.
We recommend replacing your HVAC system in the early fall to ensure seamless comfort as cool weather sets in. If your equipment leaves you stranded in the middle of winter, though, our team has you covered with 24-hour emergency services.
Perfect Service: Keeping the Birmingham Area Warm
As winter approaches in Birmingham, AL, ensuring that your HVAC system is well-prepared is essential for maintaining a comfortable and energy-efficient home. By following these steps and seeking assistance from professionals like Perfect Service, you can enjoy a warm and cozy winter while keeping your energy bills in check.
Don't wait until the cold weather arrives – start preparing your HVAC system today, and you'll be thankful for a well-maintained, efficient system when the temperatures drop. Contact us online today to schedule your preventative maintenance, repair, or system replacement. Or call us at 205-206-6091 for perfect service from our friendly team!